أدباء الجاهلية: ميمون الأعشى
Maymûn Al-Aacha (590-629)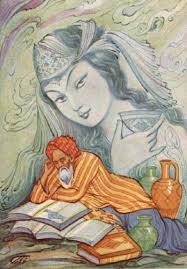 Maymûn al A'shâ is a Bacchic poet born in the village of Manfuha.
This 7th century poet is an itinerant, nicknamed "The cymbal of the Arabs". Almost a professional poet, he is the author of works that celebrate the leaders of his time, but the panegyric of the prophet attributed to him does not seem authentic.
It addresses all the themes of love, Bach, warriors, naturalists characteristic of the poetry of the time; one of its odes is sometimes included in the sum of Mu'allaqât. He died in 629 when he fell from his mount when he returned to the Yamâma region. The poem included in Mu'allaqât, was translated by Jacques Berque.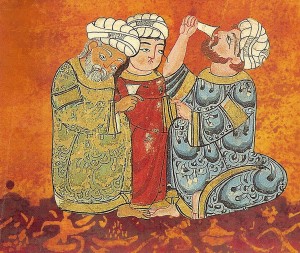 It begins as follows:
Goodbye, Hrayra
The caravan sets off
But are you good, you, the man, capable of a farewell
Whiteness on the forehead, bushy hair, pure teeth
carefully it works
as sore in clay
how she looks when she comes back from the neighbor's tent
is that of the cloud which passes neither slow nor pressed
you hear her jewelry whispering every time she turns …